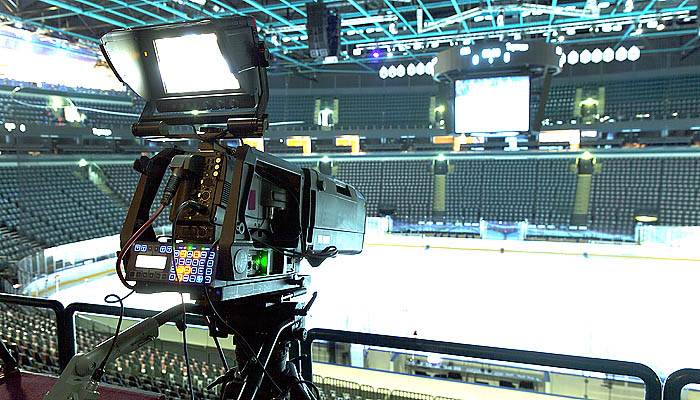 Internal TV
Technological television system is designed to provide visual information to sound and television operators and is a source of video content for other television systems.
The system must be considered in conjunction with all the TV systems of the stadium including internal cable TV, TV control room, video displays, video banners, technological TV, passive broadcasting system, equipment for commentators.
The system is designed to accommodate television cameras immediately before the start of events in accordance with the task of the director. The cameras are connected to any switching boxes of the passive broadcasting system. Video streams from cameras through a cross-trans point enter the television control room for further processing. Video streams directly or with processing can be issued on a video board, PTS or sent to the IPTV station for distribution to stadium monitors.
IPTV system
The system is designed to receive satellite television signals and signals from IPTV operators, their decoding and subsequent transmission over an IP network. The system provides the ability to receive HD-SDI and transfer them to the IP network. The system uses a structural network to distribute IP.
Corridors, VIP lodges and recreation areas should be equipped with televisions of various sizes to display different content depending on the location and goals. Screens should be connected to servers to display interactive content and services "Video on Demand" – IPTV solution.
An interactive TV system consists of televisions and set-top boxes for televisions with remote controls that will provide various interactive services to visitors. Computer set-top boxes for televisions should be made using IP technology which will allow not only broadcasting commercial and internal TV channels but also providing "video on demand" services with an archive and the best moments, additional content such as online game information, online statistics or team presentations. All this information should be automatically processed from other systems such as: timing, video broadcasting systems, etc.
Complete solutions for sports facilities