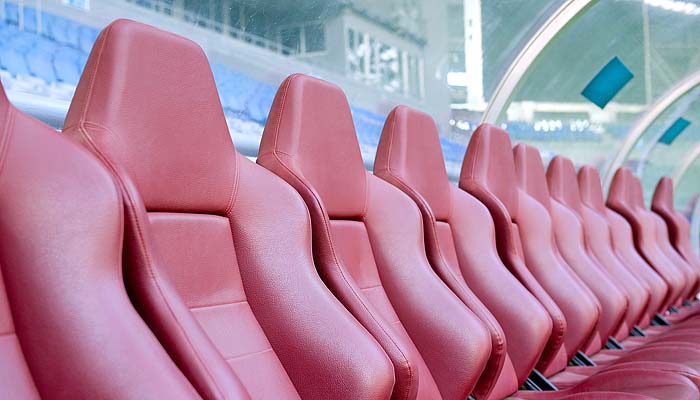 Spectator seats: seats, grandstands
Spectator seats are an integral part of any sports complex. In the modern world there are practically no objects in which standing places for spectators would be provided. Convenience, comfort and safety come first in the construction or reconstruction of any sports facility.
Conventionally all seats can be divided into several categories:
Public seats are individual, made of high quality plastic with the possibility of mounting both on a horizontal and a vertical surface with or without a back. Seats can be made in any colour scheme as well as be part of a holistic drawing of the stands. Rreclining seats are also used to ensure an optimal evacuation mode. All seats have a serial number according to the landing plan of a sports facility. Optionally, armrests and cup holders can be provided on each seat.
VIP seats and VVIP seats are high comfort seats. The seats and backs are made of soft materials which can be upholstered as a fabric and natural or artificial leather. Each chair has a seat number; armrests and cup holders can be installed on them. Also, as an option, the chair can be equipped with a heating system and a USB input for charging mobile devices. If desired, the club or sports facility logo can be applied to the back or seat of the chair by heat treatment or embroidery.
Press seats are installed on the media platform of a sports facility and can be of different configurations – from ordinary seats to those that have folding tables for work, USB-inputs, electrical outlets. Also seats for the media stands can be delivered complete with special tables or commentator's booths according to the requirements of one or another organizer of sports events. Press seats can be both stationary and mobile.
Bench seats. In addition to the main characteristics of the seats that are present in the VIP segment, seats for substitute players can have additional rollers to support the back, head restraints. Seats can be installed stationary or on special frames with wheels which will allow you to quickly transport the entire bench to the right place.
In addition to individual solutions in the supply of seats, our company offers comprehensive solutions for the production and installation of entire stands.
Telescopic stands – an innovative solution designed for small halls or halls where it is necessary to regulate the internal space. Such stands can be folded manually or automatically which allows to free up to 80% of the space that would be occupied if a stationary stand were installed. The stands can be folded in different directions and even completely "go" under the floor freeing up 100% of the space under them. Telescopic stands can be stationary (attached to the surface) as well as mobile (which can be moved from place to place manually or automatically).
Collapsible stands – a great solution for temporary sports fields or for sports events in places where there are no stationary stands. The stands consist of individual elements that are conveniently transported, easily and quickly assembled and disassembled and also occupy a small space during storage.
Our company offers solutions of leading European manufacturers adapting them to each object individually. All seats have certificates of compliance and safety.
Seats for open objects withstand temperature extremes from -50 ° to + 80 ° which allows  to maintain their original colour.
The seats that we offer are anti-vandal and made of materials that are not inflammable from open flames.
Complete solutions for sports facilities