The sports ground is a specially equipped structure intended for physical culture and improving procedures, educational training works and for sports and entertaining occupations of various sports.
Sports grounds can be divided into several types:
Playgrounds for team games: football, volleyball, basketball, tennis and universal.
Areas for workout: bars, horizontal bars, handrails, street simulators.
Children's sports grounds: "towns" with slides, steps, handrails, tunnels. In the last few years, small climbing walls and cable cars have started to appear on playgrounds.
Narrowly specialized areas: rollerdrome, skate park, chess tables and table tennis.
The surface of the areas for team games and workout classes is covered with synthetic materials to ensure injury safety and simplify operating conditions. The most convenient and practical material for use in sports grounds is an artificial grass or a rubber covering.
For drainage from the lawn of the football field install a drainage system of gravel and pipes, which are diverted to the city collector. This creates the conditions so that you can play on the field for a short time after the rain.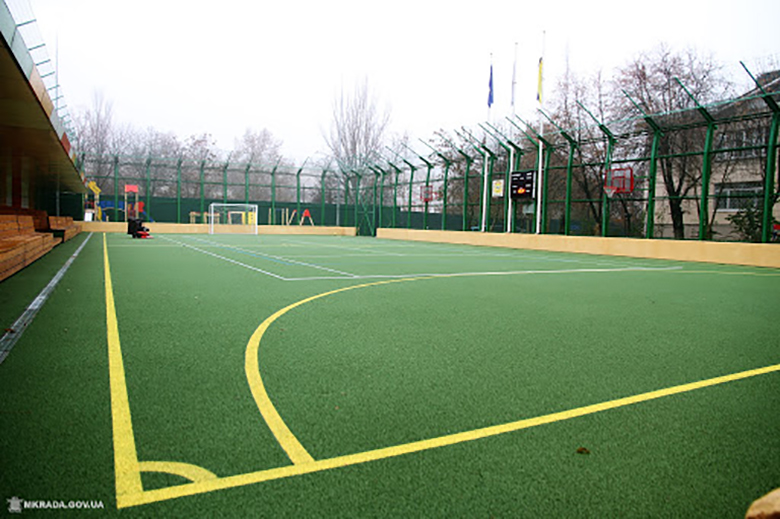 Modern playgrounds are different from the former Soviet ones. Instead of metal structures now use simplified metal-plastic. Such materials are lighter and safer, without losing the strength of the site. Play elements of playgrounds are aimed at the development of the musculoskeletal system, general motility and flexibility.
A few years ago, narrowly specialized sports facilities began to appear in the yards: rope parks and table tennis tables, skate parks and open-air chess corners. For each such site its age restrictions and requirements for construction, safety measures. At the arrangement of similar constructions the wearproof materials steady against temperature and mechanical damages are used.